Mark, the Blog · Wednesday, May 30, 2012
Ali Neff goes where culture and music collide.
Back in 2007 I heard there was a graduate student named Ali Neff doing ethnographic work in Clarksdale, Mississippi. But she wasn't just studying the Delta blu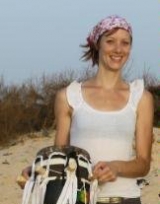 es; she was documenting hip hop and where the two musical genres intersect. Interesting topic, I thought. So I wrote about her work in progress for the print issue of Endeavors magazine.
Two years later she published a book, Let the World Listen Right: The Mississippi Delta Hip-Hop Story. Endeavors didn't have room to cover the book in our print magazine—we'd written about Neff's work already, and there are so many stories to tell at Carolina. And at the time, our website was merely a digital iteration of our print issue.
Now that we have all the space in the world to publish stories online, the least I can do in Neff's case is close the circle and point out that she parlayed her early research into an accessible book and a documentary film of the same name. (Now she spends time documenting musical traditions in Africa.)
Neff never intended to study hip hop. She was deep into San Francisco's music scene when she was inspired by Bill Ferris's book, Blues from the Delta, to drive across the country to see and hear the bluesmen for herself. But as she explored Clarksdale, Neff heard a lot more hip hop than blues. She met different rappers, followed a few of them from juke joint to barbeque pit, earned their trust over the course of years, and began telling their stories even before she enrolled in Carolina's graduate program.
Ferris, who became her mentor, wrote the forward to Let the World Listen Right, which is an honest portrayal of rappers, men and women alike, who attach rhymes and melodies to lyrics that penetrate deep into lives rife with hardships. Neff spent the most time with rapper Jerome Williams, who told her he raps about what he sees in Clarksdale. His music, he says, is a soul cry. Delta hip hop, in this context, is not a departure from the blues. It's a logical, twenty-first-century extention.
Neff is still in contact with the people she met in Mississippi. And she's still at UNC, a doctoral candidate in the Department of Communication Studies. This past academic year, she spent time in Senegal on a Peacock REACH fellowship. She's already made a short film of musical performances you can watch below, and during the upcoming academic year she'll teach a course based on her fieldwork in Africa.
I have a feeling that when she's done in Senegal, we'll have something else to write about.
http://endeavors.unc.edu/ali_neff_an_ethnographer_no_longer_at_a_crossroads